Rick Huff's Best of the West Reviews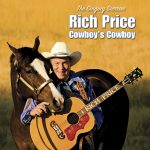 For anyone who has been missing the big…and I DO mean "BIG" West effect in their recorded fare, here ya go!!! As is true of all of The Singing Sierran's past CDs, the production elements in Rich Price's new release are top notch, rendered by many of Country Music's top hands. They include Hargus "Pig" Robbins, Joe Babcock, Jim Glaser and arranger Harold Bradley. The vocal arrangements in particular are richly full-bodied. The collection also makes good use of Price's sonorous bass voice. On most of the tracks Price seems to have converted to a spoken or half-sung style of delivery that, for my ear, works far better for him than what has been employed on earlier releases.
Picks include the title track "Cowboy's Cowboy," "Bandera Moon," "You Don't Have To Be From Texas" and "Legend Without A Name." By and large, this is Price's most artistically satisfying release and, happily, I can recommend it!
Twelve tracks.